CITB Training Courses from Site Safety Plus Scheme Accredited Providers
BookMyCourse are an online training solutions provider, offering CITB courses and the Site Safety Plus Scheme at locations nationwide. From SMSTS to SSSTS and Health and Safety Awareness to TWCTC, we offer a wide range of CITB training courses at competitive rates. In normal circumstances we would ask you to book your place online or call our hotline on 01933 233884 for further information. However, due to the Coronavirus Pandemic we are currently operating with a reduced team working predominantly from home locations. At some times during the day we may have high call volumes and it may be easier to communicate with us by email to enquiries@bookmycourse.co.uk until we can fully re-open our office.
Undertaking and passing the CITB training course necessary for your role on site will help you demonstrate your competence.
How does COVID-19 affect course delivery and can I do a CITB Course in an online format?
There are emergency procedures in place for the delivery of some CITB courses during the current Coronavisus pandemic. There are some conventional classroom courses dates programmed at this time, and the number of dates is increasing. However, remote delivery of some CITB courses is now possible under CITB's "Appendix Q – Emergency Training Provision Scheme Rules" and these remote online classroom options are proving to be very popular. Current courses with online classroom options are: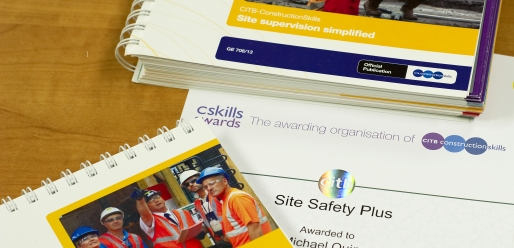 Who are The CITB?
The Construction Industry Training Board (CITB) is a national accreditation body recognised by Build UK, formerly the UK Construction Group (UKCG), and Major Housing Building Group (MHBG). The CITB accredits the Site Safety Plus Scheme, which provides construction, civil engineering and allied industries with a variety of CITB course designed to help maintain a safe workforce.
Site Safety Plus Scheme (SSP)
The Site Safety Plus Scheme is only offered through accredited training providers, ensuring that the highest quality standards are met. This suite of courses has been designed to ensure that everyone benefits from the best possible training, tailored to their individual role within the construction industry.
Those wishing to enter the Site Safety Plus Scheme as an operative or a newcomer to the industry would chose the CITB Health and Safety Awareness Training course. The next level up is the Site Supervisor qualification, which is aimed those with supervisory responsibilities. Then above this is the Site Manager qualification, which is aimed at construction site managers and potential site managers.
On successful completion of these CITB courses, delegates will then be certificated for a five-year period. Certificates may take six to eight weeks to be distributed; a letter confirming qualification can be used as proof whilst awaiting certification.
The one day Health & Safety Awareness course is designed for those who are thinking about a career in construction. It is the first step towards obtaining a CSCS Green Card alongside the CITB Operative's touchscreen test. This course highlights potential hazards on site and gives you an overall 'awareness' of the construction site. It will underline your responsibilities on site as well as your employer's.
This one day CITB training course is intended for CEOs and company directors who wish to gain a greater understanding of health and safety. The course teaches delegates how to promote a positive health & safety system within an organisation; with the purpose of appreciating the consequences of failing to manage health and safety effectively and the importance of recognising moral, economic and legal implications made in the boardroom.
The Site Supervisor Safety Training Scheme (SSSTS) is a two day course designed for those working as a site supervisor. It is recognised as one of the key qualifications under the Site Safety Plus Scheme making it one of the most popular CITB courses and awards.
Those undertaking a SSSTS course will learn how the supervisory role can support the site manager in upholding safety on site, further information regarding risk assessments and a deeper understanding of health and safety law relating specifically to supervisors on site.
The SSSTS Refresher one-day course is aimed at delegates who have previously passed the full two-day SSSTS course and whose certificate is due to expire. This course aims to bring delegates up to date with current legislation and ensure that they continue to remain qualified in their role.
The Site Management Safety Training Scheme (SMSTS) is a five day CITB course that covers areas including CDM regulations, duties and responsibilities. Because safety is an essential element of site management, the SMSTS training course will assist managers and potential managers in developing their knowledge, awareness and understanding to ensure safe methods of work for construction site employees.
The SMSTS refresher course is a condensed version of the full five day course that lasts 2 days and only those individuals who have passed the five day course and can provide a valid certificate will be eligible for the Rrefresher course.
The Site Environmental Awareness Training Scheme (SEATS) is a one day CITB course suitable for site supervisors or managers that is designed to ensure your business understands environmental issues and how these issues affect the construction site.
This is a two day CITB course for those with responsibility for managing temporary works on site. This course will provide an understanding of BS 5975 and the procedural controls described within the code. Delegates must have experience in being responsible for managing all forms of temporary works.
This is a one day CITB training course which will provide a Temporary Works Supervisor with the knowledge and understanding of the risk management of temporary works. The course will assist those on site who are undertaking the role of Temporary Works Supervisor and give them a thorough understanding of BS5975 in respect of this role. Candidates must have previous knowledge of managing all forms of temporary works.
This is a one-day course that has been designed for those who are involved in temporary works, but are not working in the role of Supervisor or Co-ordinator. This course is recognised by FMB, HSE, UKCG, SESA and the Temporary Works Forum and candidates are not required to have any previous knowledge about working within temporary works.
This one-day course is aimed at all workers on a construction site and can be applied to any construction situation. The training is designed to give an understanding of how attitude, behaviour, communication and engagement at all levels can prevent accidents and is in line with the current ACoP and Guidance for the CDM Regulations.
This CITB course is part of the Site Safety Plus scheme and runs over two days. It is aimed at those with management or supervisory responsibilities, such as supervisors, the site foreman and site managers.
You may also be interested in….
Commonly Asked Questions
How long are CITB accredited certificates valid for?
Five years.

Do CITB accredited certificates have a grace period?
Previously, all CITB accredited certificates used to have a six-month grace period however, the accrediting body changed this so that any certificates that expire on or after the 1st January 2016 no longer have a grace period. Candidates are expected to have completed the relevant Refresher course by the expiry date shown on their certificate, failure to do this means that the candidate will need to complete the full training course again. Note:- This rule is temporarily superseded during the COVID-19 pandemic as outlined in the following link: Awarding Body Card and Certification Arrangements during the COVID-19 outbreak.

With these new grace period rules, what happens if my course gets cancelled and my certificate expires?
Should a course be cancelled, candidates will need to submit proof to the CITB that they have exceeded the expiry date on their certificate through no fault of their own. If the candidate has a successful appeal, the CITB usually grant a thirty-day extension on the candidate's certificate so that they can then book onto a Refresher course.

Can CITB accredited courses be run at our own venue?
CITB courses can be run as a dedicated course at your own venue. CITB rules dictate that between four and twenty candidates can attend each course.

Are there any pre-requisites for the CITB Health & Safety Awareness course?
Candidates must have a good understanding of spoken and written English in order to attend this course.

Will the CITB Health & Safety Awareness course get me the CSCS Green card?
Candidates must complete both the one-day CITB Health and Safety Awareness course and a CSCS Health, Safety and Environment test in order to apply for the CSCS Labourers Green card.

Do I need to have to have taken a CITB Site Supervisor course before taking the CITB Site Management course?
Candidates do not have to undertake the Supervisor qualification prior to taking the Management course. Experience managing or supervising a site is an advantage but candidates do not have to have achieved any previous qualifications prior to attending the course.

Will the CITB Site Supervisor course give me a CSCS Gold card?
Upon successful completion of the CITB Site Supervisor course, candidates will receive a CITB accredited certificate which is valid for five years. In order to obtain the CSCS Supervisors Gold card, candidates will need to undertake an NVQ.

Will the CITB Site Management course give me a CSCS Black card?
Upon successful completion of the CITB Site Management course, candidates will receive a CITB accredited certificate which is valid for five years. In order to obtain the CSCS Management Black card, candidates will need to undertake an NVQ.
Do CITB courses have tests?
Each CITB course will finish with a test at the end that leads to the resulting qualification if succesful; tests will be scheduled as part of the course you chose to book.
Are there any grants?
Grants are only available to CITB levy payers.
Get a quote using our dedicated enquiry form - you can also book your desired course online through the BookMyCourse website, you can call us on 01933 233884 or email us at enquiries@bookmycourse.co.uk.