CITB Site Safety Plus Online - Online Delivery of CITB Training Courses in Virtual Classrooms
Before the COVID-19 pandemic all CITB courses were delivered face-to-face in conventional classroom formats, but when the pandemic arrived, the Construction Industry Training Board (CITB) reacted quickly to ensure safety for all whilst still ensuring thorough training for candidates. This was achieved by changing the scheme rules to allow delivery of CITB Site Safety Plus Courses online in virtual classroom formats. Since then CITB courses online have been (and still are) a very attractive option through these uncertain times. However, at this point there are more conventional classroom courses dates being released and we are taking enquiries and bookings for these courses as well as the CITB online course options.
Whilst the remote delivery of Site Safety Plus courses online in virtual classrooms remains a popular option, classroom based courses at physical venues have returned in all areas of the UK. The conventional classroom suits many, but the delivery of CITB Site Safety Plus courses online in virtual classrooms suits those who want to minimise their travel, and is especially applicable to individuals who are located in areas of the UK, where venues are limited.
Undertaking and passing CITB site safety training courses remains critical to many who have roles on site and helps to demonstrate competence. Sitting these CITB courses online means that candidates can still receive their training and achieve their qualifications whilst helping to limit the spread of Coronavirus.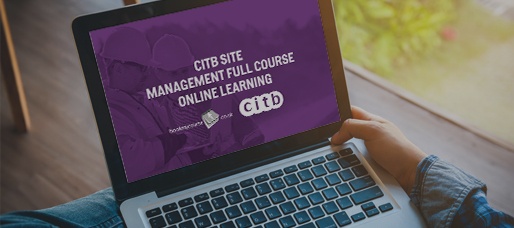 CITB Online Site Safety Plus course options
CITB Courses available as online options, include:
You can book your place online or call our hotline on 01933 233884 for further information. or communicate with us by email to enquiries@bookmycourse.co.uk.
Who are The CITB?
The Construction Industry Training Board (CITB) is a national accreditation body recognised by Build UK, formerly the UK Construction Group (UKCG), and the Major Housing Building Group (MHBG).
The CITB accredits the Site Safety Plus Scheme, which provides construction, civil engineering and allied industries with a variety of CITB course designed to help maintain a safe workforce. The introduction of these CITB Site Safety Plus online courses has been invaluable to keep this area of training moving and available for those who need these qualifications.
Site Safety Plus Scheme (SSP)
The Site Safety Plus Scheme is only offered through accredited training providers, ensuring that the highest quality standards are met. This suite of courses has been designed to ensure that everyone benefits from the best possible training, tailored to their individual role within the construction industry.
There are courses for operatives and newcomers to the construction industry as well as courses for site supervisors, site managers and directors. More details on the individual courses can be found on our main CITB Site Safety Page.
On successful completion of these CITB courses, delegates will then be certificated for a five-year period. Certificates may take six to eight weeks to be distributed; a letter confirming qualification can be used as proof whilst awaiting certification.
Those who successfully complete these online courses will receive the same accreditation as those who have completed them in a conventional classroom.
Commonly Asked Questions
Are CITB accredited certificates delivered through CITB Online Training valid for the same period?
Yes, they are valid for 5 years.
Are there any pre-requisites for attending an CITB Online Training course?
Candidates must have a good understanding of spoken and written English in order to attend an Online Classroom course.
Are there any venue or equipment requirements for attending an CITB Online Training course?
In brief, your venue and access arrangements must meet the requirements of the CITB, as listed below:
- A suitably sized, clean and quiet room without interruptions.
- A clock must be visible at all times.
- Access to a computer, laptop or tablet with a reliable high-speed internet connection.
Note:- More detailed requirements may relate to specific delivery models from different providers and more information will be provided on specific course overviews.
Are there any grants for CITB Online Training Courses?
Yes, but grants are only available to CITB levy payers.
Get a quote using our dedicated enquiry form, book your course online through the BookMyCourse website, call us on 01933 233884, or email us at enquiries@bookmycourse.co.uk.